Are you positioning your business in a way to attract the right future clients for you and your team?
Do you think you're behind your competition when it comes to generating more leads?
If you want to take more time to grow your business and have a trusted partner to help guide, advise and propel you to the type of professional organization you want to be, then done for you digital marketing is for you.
How Does It Work?
Done for you digital marketing is simple, but hugely effective. We talk over your business, where you are now and where you want to be, and put a strategy together to skyrocket your online reach: and finally get high-quality leads rolling in.
We're here to advise, plan and execute your online marketing efforts. Placing you in front of your ideal clients and getting them to take action.
That doesn't mean we work in isolation. We take our experience and knowledge, and place you in the best possible place to connect with your ideal clients.
Then, we analyze and optimize (tweak & monitor) to get the maximum ROI.
Done for you marketing isn't for new health and fitness professionals though. You'll have a proven track record and a team behind you, but just don't have the time or expertise to properly market your business online to reach the right individuals.
This is for serious health practitioners who:
Have at least two team members
Operate from their own private studio
Hold qualifications higher than level 3 (e.g. a CHEK exercise coach or practitioner, or are Bio Signature/Print certified)
What's Included?
Everything. Well… nearly.
As long as you want help with it and it's part of online marketing then we can implement it as your digital presence partner. Here are some of the things we do on a monthly basis for health practitioners and fitness professionals:
Google Local SEO
Rank higher in the search engines and get more traffic coming to your business website.
That results in more leads (and eventually more clients).
When an individual is searching for help on Google they have a specific pain. One that they want solved with the help of a health professional like you.
If you stand out enough in search results through your website being prominent and being the first choice on other well-known directory type sites on Google (like Yell, Yelp, etc) then the search is left with a simple choice: YOU.
Search Engine Optimization helps bring in leads to your business website.
Google Ads
Being prominent on Google isn't just about being in search or in the maps pack.
At the top of the page there are adverts that try to entice searchers to choose them.
The average CTR (click through rate) for ads on Google is around 2%.
We've worked with some health practitioners and achieved as much as 19.7%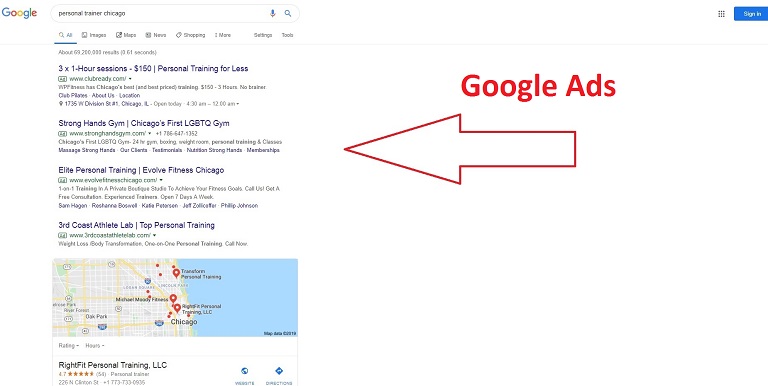 And we've then more than trebled the 3.17% average conversion rate for those ads.
It's important to hone in on who you want to attract with your ads and to test their effectiveness.
What's even more important is that your negative keyword list is consistently updated and you're only advertising to your local area. Wasting your Google ads budget through unnecessary clicks is a huge thing we see with new client accounts.
Google Maps
If you want the phone ringing with new prospective clients then GMB (Google My Business) optimization is important. How effective the optimization of your GMB profile is will dictate how well your business ranks in the maps pack.
In some towns and cities it's super competitive, which means it takes some extra work to get you into the 3-pack and help you stay there.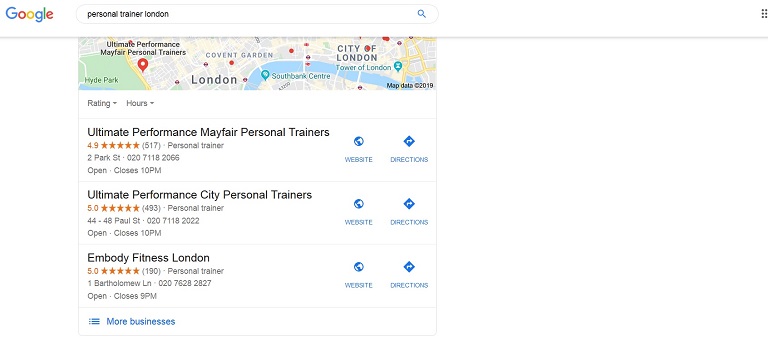 Lots of things change every month on Google (whether that's organic search, ads or maps), so it's important things are kept up-to-date and current.
Slipping out of view and sending all of the leads to your competition is NOT what you want to be doing.
We help our clients retain their position for months to come.
What's effective for Google?
The three-pronged approach for Google will bring you the lion's share of leads, and we'll track which avenues are the most effective at getting the best clients (those who pay your top rates and stay for longer).
Facebook Ads
There are lots of different avenues for Facebook ads, but what route to take will depend on your business model.
If you're into group training then challenges or competitions work really well, as long as there's an angle (they've been overused quite a bit recently, which means "Joe Public" is aware of the lure).
If you're a team of 1-2-1 personal trainers then the slow drip method works best, but it isn't great if you give up too early and fail to build trust in the individual. It then becomes a waste of time and money.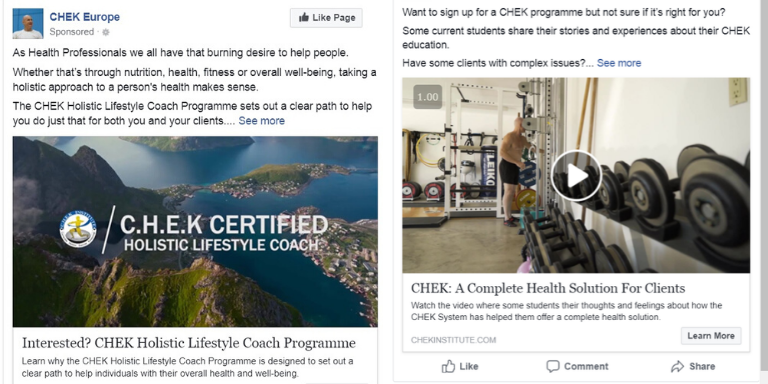 The key thing with Facebook ads is they need to be monitored, managed and tweaked in order to be effective.
The best time to start them was 5 to 8 years ago. The second best time? Now.
Facebook ads can really help grow your business quickly, but clicking the boost post button or running them here and there is only going to mean they flop and fill FB's pockets with money.
Responsive, Speed Optimized Website
In general, web designers don't know d*ck about conversion (or SEO for that matter). They'll set you up with a pretty website that looks easy on the eyes, but it just sits there collecting dust.
If you've built your own website using Godaddy, Wix, Weebly or Square Space then congratulations. You did a great job, but why would a potential client hire you if you're not willing to hire a professional? Exactly.
An effective website attracts the right visitors and converts them into leads (or at least tracks visitors so that you can advertise them at a later date if they don't convert).
Many of our clients' clients comment on the professional look and feel of their website. That isn't by accident. All of the colors, shading and buttons (as well as the text and photos) are chosen to have maximum impact.
We host the website and ensure it's secure and updates are made within 72 hours. There's no more waiting around for weeks for your "web guy" to update things.
Converting Visitors
A website, a landing page or anything else online that you control has got one job: to convert visitors into leads.
That might be through a phone call, downloading a lead magnet or completing a consultation form.
Now…
These different funnels a visitor enters and travels along won't be identical, so it's important that the language, imagery and calls-to-action are set out, chosen and designed for the route they've chosen.
Micro-commitments are good steps for people to make in the lead up to them becoming one of your clients, so we implement these at every stage.
But…
Not all visitors are going to convert.
Some will simply become busy, afraid of what they could achieve with you or go in search of someone who is going to be a better fit for them and their goals. That's okay. It wasn't meant to be.
What's important is that at every stage an individual is given a clear (and subconscious indications) that you're the best team to work with.
For visitors who haven't quite made up their minds, re-targeting ads work well to re-entice them to take action.
Lead Magnets & Marketing Funnels
Leads magnets are ethical bribes in return for an individual's name and email address (and sometimes their phone number). They'd be a cold lead at that point and it's worth keeping in contact with them and moving them along your marketing funnel.
We identify the best and most effective funnel for your potential clients based on your customer avatars, and we make changes and improvements according to the data collected.
As a person progresses through the funnel they will become either a warmer lead or they'll exit the funnel altogether.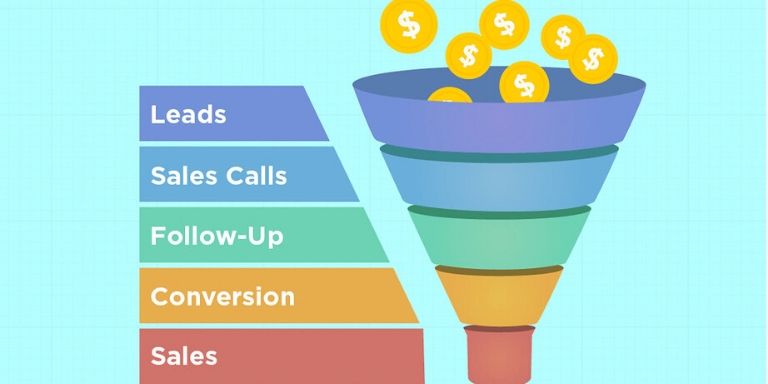 Either of these outcomes is good: you want to warm up a lead so that they're moving into the opinion of wanting to work with you and your team.
Marketing funnels can be simple step-to-step ones or more complex ones that involve different mediums of communication, including email, SMS, Facebook messenger, Whatsapp messages, re-targeting ads, etc using marketing automation.
All of these automation steps are managed by us so there's no geekery or techie stuff to manage for you.
And….
Everything is managed and updated to be inline with current legislation, such as GDPR for health practitioners.
YouTube Marketing
Video consumption has grown exponentially over the last few years. As humans, we're consuming more and more information through video than ever before.
YouTube videos can be ones that help with your marketing efforts on search and in Google/Bing or they can be more in line with educating individuals on the different topics you know about.
Not everyone is confident with video, but we always push it as a crucial step to take for a health practitioner team.
You'll connect with an individual much quicker too.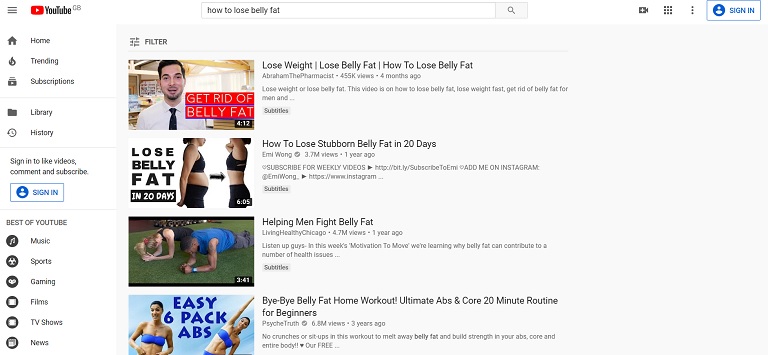 Video marketing on YouTube for health professionals can help you stand head and shoulders above your competition: most business owners are too shy to get behind the camera.
We give hints, tips, and professionally edit and publish the video so that it has the best possible chance of being seen by your target client.
YouTube optimization is a "thing": for a video to rank well in YouTube takes similar thought, processes and energy as ranking a website high in Google.
Review Management & Monitoring
Reviews are a clear indication to a prospective client that you have the experience, expertise and knowledge to help them, and that you've helped someone just like them achieve their goals.
That's why we take control of reaching out to your clients to help them share their stories and experiences with other potential prospects.
You're involved in the process, but as with lots of other things that we help you manage we do all of the heavy lifting through automation.
We help to make it super easy for your clients to leave a review on Google, Facebook and other websites to help prospects make the decision that "yes…. this team is right for me!"
What's The Cost?
Well, it isn't cheap, but the monthly investment isn't astronomical either.
We work with health practitioners and fitness companies based on your experience, diversity and the knowledge of your team, and your thirst for growth.
Your monthly investment with us covers everything you need to generate the maximum number of quality leads for your business to run smoothly online.
This is similar to a 1-2-1 service that you provide clients: we're here as digital presence consultants to work in partnership to improve the number and quality of leads you get online.
Interested?
Everything starts with a discovery call.
Click/Tap the button below to discover more.